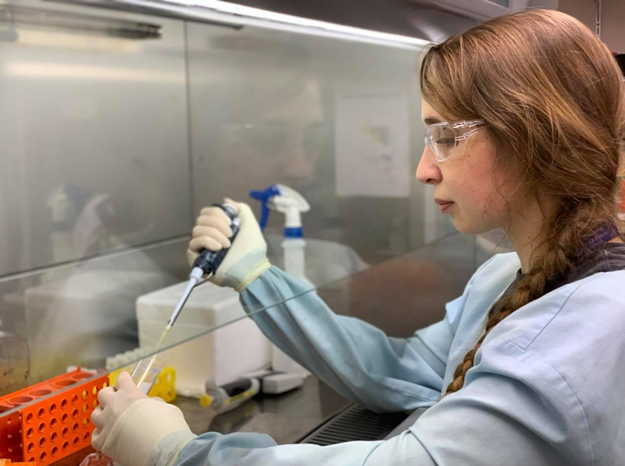 Hi, my name is Nathalie Verzele and I'm a PhD candidate at the University of Queensland in Australia. My PhD topic is "The neuromodulation of inflammation in pulmonary infections" in the virology lab of the "Flu Fighter", Dr. Kirsty Short in collaboration with Dr. Alice McGovern. How did I get here, you ask? Let me tell you, it was a long road with many ups and downs.
After graduating with a professional bachelor's degree in Biochemistry from AP University College of Antwerp, I wanted to work in a diagnostics or research lab. However, most of the job opportunities that I was interested in required either a Master's or doctoral degree. So, I started a bridging program in Biomedical Sciences at the University of Antwerp. This program was designed for people with a professional Bachelor to acquire the necessary knowledge and competences you need to proceed with a Master's degree. When I undertook the program, it was still in its trial year. It was a tough year, but thankfully I had lots of support from family and friends.
When starting my Master's degree, I had to decide which minor and major to take. My interest for the minor went to Research, based on my internship experience at Johnson and Johnson during my Bachelor years. My major was a more difficult decision as I had 5 options to choose from:
Infectious and Tropical Diseases
Molecular and Cellular Biomedical Sciences
Environmental and Health Sciences
Clinical Research
Neurosciences
Back then, I opted for Clinical research because I wanted to work in a large company like Johnson and Johnson focusing on drug development. Ironically, Neuroscience was not my main interest even though it is now a large part of my PhD project that I have come to love.
In my first year of the Master in Biomedical Sciences, I needed to find a laboratory to carry out my Master's dissertation. Thus, I contacted someone at Johnson and Johnson that I had met during my Bachelor internship. She introduced me to the respiratory team leader and I was invited for an interview shortly after. They suggested that I start a voluntary research internship during the summer to gain experience. I ended up working there for three months until my classes started again, focusing on preparing my Master's thesis. I had to grow multiple virus strains, design and make plasmids, grow different cell types, and besides my Master's topic I learned more about resistance selection experiments.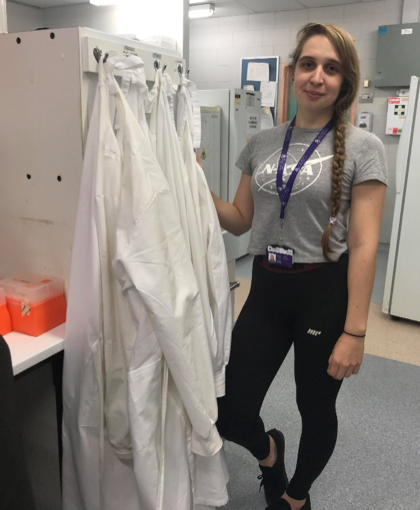 After the summer, I started my internship and Master's thesis with the respiratory team. The focus of my research was to validate the target and activity against influenza A and B of a small molecule by using different techniques, such as the minigenome assay. My dissertation brought new challenges and I struggled with optimizing the minigenome assay. This assay is used to evaluate the polymerase activity (by only using the polymerase complex of influenza) of the compound using fluorescence and luminescence as a read-out. The result of the assay would have been used to confirm the target of the molecule. Around this time, I met a new Postdoctoral researcher in my team, Emma (originally from Australia), who was familiar with the assay and helped me gain new insights into this assay. It was the start of a new friendship.
In December, three of my colleagues were offered a PhD position at Johnson and Johnson. I was happy for them, but I also felt disappointed as I had also hoped to be offered a PhD position. I didn't let this set-back get me down and I actively started looking for PhD positions all over Europe. One day, I mentioned to Emma how I was struggling to find a PhD position when she suddenly asked me if I would be interested in going to Australia. Without even thinking I replied, "Why not?". She brought me in contact with my current supervisor Dr. Kirsty Short. I still remember, at the end of our Skype meeting, when Dr. Short mentioned that she'd be interested in me joining her lab and she asked me what project I wanted to work on. Thinking back, it still feels like a dream to me.
It was only later that I fully realized that Australia is a 20-hour flight, with an eight to nine hour time difference.
Based on the grant ideas, I felt that the combination of neuroscience with virology would interest me the most. I was specifically drawn to that subject and informed Dr. Short that I would love to work on that. Then the process started of getting a scholarship. This was more difficult than expected. I had to pass an English test, get official documents translated, find references and obtain a visa for Australia. After many setbacks, in October 2019, I was offered a PhD scholarship. Everything felt quite surreal, from booking the flight to saying goodbye to my friends and family. The day of my flight was the moment everything truly started to sink in, and the extremely long flight certainly didn't make it easier. Once in Brisbane, a fellow PhD student kindly picked me up from the airport.
Funnily enough, it doesn't feel like I'm on the other side of the world. The weather is different but people are friendly and helpful, making me feel right at home.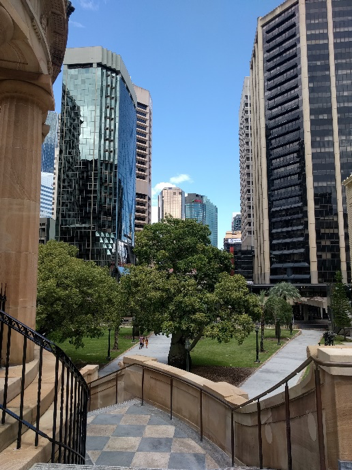 I didn't have much time to adjust to the new time zone. Three days upon arrival, I was thrown into my project which focuses on the involvement of the neurological system in pulmonary diseases (like influenza) and disease severity. Successively, this knowledge can be used to modulate the neurological system to reduce disease severity. SARS-CoV-2 caused the experiments to slow down for a brief period of time and caused some struggles along the way. However, it was also an opportunity to start a new project with the focus on coronavirus disease severity.
For many people, these are scary times, especially with all the uncertainties of what is going to happen. For us, this is an exciting time to get to know a new virus strain.
I do miss my friends and family and I still hear from them weekly, but I'm happy and grateful to have been given this opportunity. I grabbed this opportunity with both hands, even if it meant I had to move to the other side of the world. I am also thankful for the research internship I did at Johnson and Johnson. I learnt a lot and made new contacts. The researchers at Johnson and Johnson helped me become the person I am today and brought me into contact with Emma. She and my supervisor, Dr. Kirsty Short, saw potential in me and made my journey to Australia possible.
What I am most grateful for are my friends and family that supported me throughout this journey and still do. Even though it can get tough sometimes, if you want something, you have to fight for it and you will get where you need to be. Remember to always believe in yourself!
---
Article written by Nathalie Verzele. Student editor: Wout Arras. Editor: Dr. Bronwen Martin.