Disruptions in the (maritime) supply chain are well known. The challenges of the logistics sector reached the consumer in his/her seat in the living room through all kinds of news channels. No shipping, no shopping. There is a (hopefully not temporary) growing recognition that maritime supply chains play a vital role. But what keeps high-level managers in the logistics sector awake?
The logistics industry has shown that it can quite well cope with the challenges in the supply chains caused by the current pandemic. Hence, what is the current supply chain reality for the actors in the maritime supply chain? This topic was discussed during the joint event (Jan. 20th, 2022) organized by Katrien Storms, holder of the Dennie Lockefeer Chair, Prof. Christa Sys, holder of the BNP Paribas Fortis Chair and promoter of the Dennie Lockefeer chair and, Prof. Thierry Vanelslander, promoter of both chairs.
The chair of BNP Paribas Fortis Transport, Logistics and Ports has been committed to co.innovation for years. Under the term 'co.innovation' is understood: a new form of co.creation that encourages the maritime ecosystem to focus on collaborative innovations. The late Dennie Lockefeer, formerly COO Van Moer Logistics, was a visionary and fighter on challenges in the supply chain, and especially in the hinterland. The joint event was set up in this philosophy, which perfectly matches the vision of the BNP Paribas Fortis chair (also a bronze partner in the Chair Dennie Lockefeer).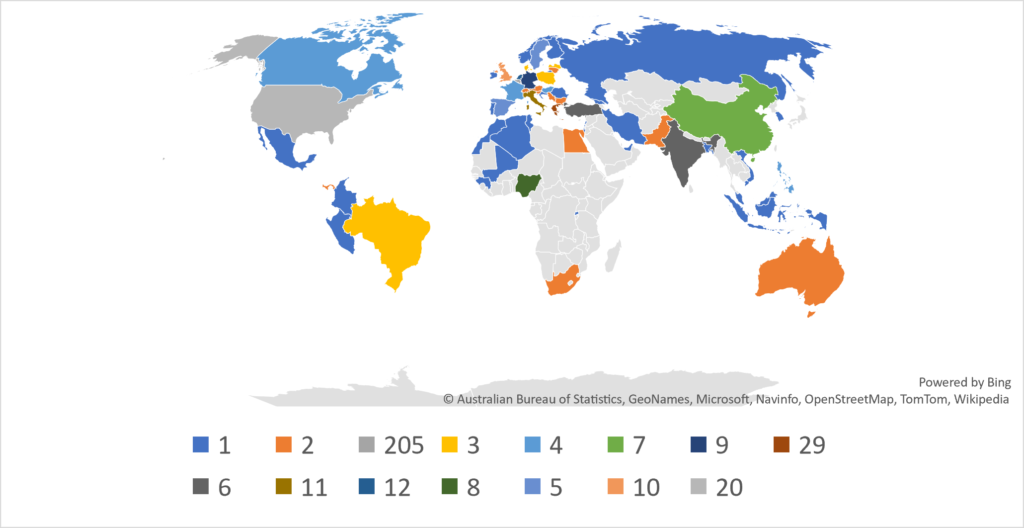 Figure 1 Nationalities participants
Concerns other than disruption
Given that the event took place online, participants were asked to share their experiences in a questionnaire. The main objective was to gain insight into the supply chain reality. The completed questionnaires made it possible to identify which items should have the most attention. A nice observation is the alignment of the views of academia with the industry.
If 'disruptions in the supply chain' as answer were expected in the 'other' category as well as 'war for talent,' it appears that the managers in the logistics sector still indicate sustainability and digitalization as the most important challenges in the current supply chain reality (see Figure 2). 15% of the respondents pointed to being confronted with all the variables. With respect to digitization, the respondents note that that is highly important given the impact on cost, efficiency, flow visibility, info-sharing among the actors, etc. Acceleration of the transformation to digitization was expected, but daily reality shows that a (next-generation) digitized strategy is often missing, and most certainly an implementation plan. However, it is a prerequisite.
Next to the sector's public image, sustainability is important to change decision criteria in tender processes, guarantee business continuity, and avoid investment losses. However, some actors state that it is unimportant because of greenwashing and cost-efficiency still rules over sustainability in the decision process. Both digitization and sustainability have the potential to make the world better, while waiting times are rather negative. The exorbitant waiting times will be temporary. However, the issue of waiting times already challenged the involved actors before the pandemic era. What is clear is that a number of elements can be grouped into two categories: costs and time (e.g., congestion, time of delivery, reliability, and so on). Time is money and has a capital cost! It may still take a lot of effort.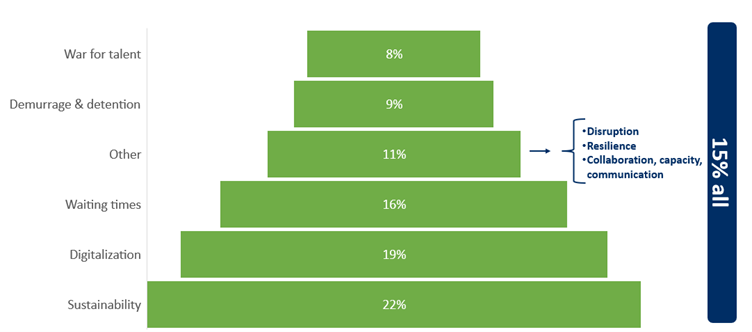 Figure 2: Current supply chain reality
Solution-oriented approach
When it comes to putting forward solutions, many suggestions come up (e.g., improved risk management, cooperation, visibility, data-sharing, AI, regulation, (multimodal) connectivity, etc.). Now that the solutions are identified, a roadmap that outlines a timeline for the short, medium, and long-term needs to be developed. According to Sys & Vanelslander (2020), "the solutions should generate a positive efficiency effect in terms of economies of scale and scope". Co.innovation is needed. Who takes the initiative?
Although focusing on waiting times, digitization and sustainability is not new, it clearly remains a big challenge for the logistics sector. And this while solutions that jointly address these three challenges would lead to the success of the respective local maritime ecosystem. In the end, to come to a resilient maritime ecosystem, an actor should not see others as competitors but develop a working maritime ecosystem; and move forward.
Properly used demurrage and detention serves its purpose
Katrien Storms looks for her PhD research at the Department of Transport and Regional Economics at the University of Antwerp into the challenges of demurrage and detention (D&D). In her research, she identifies the interpretation of D&D matters.  D&D are charges that the shipper or receiver has to pay to the carrier for the late pick-up or return of a container to the terminal. Parallels can be found in renting a car, borrowing a book, etc. Feasible solutions for D&D are increased (re)negotiations, announcing the planning earlier, and more digitalization. While there are several evolutions in digitalization (Maersk digital alert) and tools (FIATA) to help with negotiations, it becomes clear that this alone is not sufficient to solve the problem. Therefore, it is interesting to look for other explanations and solutions.
Be pro-active
The current and future challenges also pertain to customs, legal and financial aspects. During the panel session, these three perspectives were highlighted. Customs aspects resulting in D&D issues can be avoided by working pro-actively. During maritime transport, things can already be arranged, such as requesting the binding tariff information (BTI). Exchange of information via digitized processes so that expertise can be better deployed. Customs controls are necessary, but keep it simplified as much as possible.
"People wait too long to make customs arrangements" – Kurt Crauwels, Managing director of Customs Support.
Next, it is remarkable that there is very little Belgian case law in the field of D&D; hence for an almost daily/global problem with local operational impact. The commonly used term 'free time', the tariff, and the notice of default are based on contract freedom. A piece of clear advice, formulated by Philip Van Lommel, lawyer Ponet & LVP Advocaten, is: under Belgium law, the D&D clause qualifies as a damage clause. The latter is valid as long as it aims to compensate for the possible likely damage. Here, the carrier clearly has a role in accepting payment under reservation of all rights.
"If D&D occurs, resolve it as soon as possible" – Philip Vanlommel, Ponet & LVH Advocaten.
Lastly, Guy Haesevoets, Senior Working Capital Advisor- Transaction Banking, BNP Paribas Fortis, creates awareness for the impact of supply chain disruptions, such as demurrage and detention disputes, on liquidity and working capital. The bank can offer tailor-made financing options and solutions, e.g. managing cash, receivables financing (factoring),trade finance solutions and set-up programs to pay your suppliers. Supply chain disruptions and disputes of D&D will impact/increase the need for working capital. Disruptions to supply chains will impact on cash flows, require higher stocks and affect profitability, financial ratios and financial reporting.
"Discussions on who should pay D&D results in more challenged and contested invoices that are not paid, which increases trade receivables and trade payables" –  Guy Haesevoets, Senior Working Capital Advisor- Transaction Banking, BNP Paribas Fortis
More information
More information about the research conducted within the chairs can be found on the webpage of BNP Paribas Fortis Chair, Transport, Logistics and Ports and the Dennie Lockefeer Chair at the Department of Transport and Regional Economics
For more information about education in which the professors are involved, surf to www.c-mat.be.
Reference
Future maritime supply networks: key issues in and solutions, Sys Christa, Vanelslander Thierry, In Maritime supply chains, Eds. Christa Sys and Thierry Vanelslander, ISBN 978-0-12-818421-9 – Elsevier, 2020, p. 261-282