Abdel Bouddount is HR Business Partner at Mediahuis, the Belgian media company behind newspapers such as De Standaard and Gazet van Antwerpen. He is part of the HR Management Team, where he is responsible for a number of departments (Marketing, Finance, ICT, etc). His job entails inflow, throughflow and outflow, recruitments, exits, promotions and evaluations.
Abdel graduated in Social and Economic Sciences in 2010. "I chose this Bachelor's programme because I was particularly interested in politics, sociology and economics. I liked the fact that you could put together your curriculum according to your interests."
At home everywhere
"The institution pays a lot of attention to diversity. I joined a student association committed to helping underprivileged youth and youth with a migration background. The university always supported our cause. And not only that, that same diversity also showed in the variety of people I met. When you study SEW, you take classes with students from social sciences, economics,… You basically feel at home everywhere."
After his studies, Abdel started working at Robert Half, where he recruited financial profiles. "External recruitment is often 80% sales and 20% recruitment. After 4 years, I wanted to pursue a broader HR function, so the next logical step was to work as HR project consultant. That way I was able to take on different projects and gain experience at various companies. My very first project was for Mediahuis. Three years later, they offered an opportunity I just couldn't refuse. "
Double impact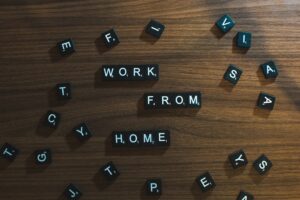 Mediahuis switched to tele-work as soon as the lockdown began. "We didn't experience any major issues. That's the big advantage of working in a high-tech environment, where tele-work was already a common practice. We are starting to notice that some colleagues are having a hard time working from home and want to come back. Others are anxious about leaving their social bubble."
"The corona crisis also has a two-sided impact on our company in terms of figures. Journalism on the one hand is doing very well. People want to be informed, they want quality news,… We've seen a big increase in the number of website visits and subscribers. On the other hand we experienced a decrease in advertising revenues. For the time being however, it's still manageable. "
HR as captains
The crisis has major consequences on the HR sector itself as well. "Before, it may have seemed that the HR department operated more in the background, whereas now we are in the front line more than ever. Just consider the temporary unemployment, the social distancing, all prevention measures that had to be taken, the physical and mental well-being of employees, etc. These are key issues in the public debate. Our role right now is not only to advise corporate levels but to help them devise strategies as well. "
HR plays an essential role when it comes to trust, well-being and motivation among employees and employers. "Employers are devoting more time thinking about the private lives of their employees. They're becoming more flexible and are actively involved to see what they can do for them. Just think about the extra parental leave for employees with young children.
In conclusion, our sector feels that the expectations are high, but at the same time there's a lot of appreciation. We are facing a storm and HR now has to ensure that everyone stays in the boat. We are captains, now more than ever. "
 Find out more about the Bachelor Social and Economic Sciences