Correspondence between Megha (student at Xavier Institute of Social Service – Ranchi) and Michael Akilimali Bahigira (étudiant à l'Université Catholique de Bukavu)
Dear Michael,
The mining industry, as well as educational institutions, have been delineated by a gender imbalance which, since its inception, has favoured men. The issue of gender diversity is very relevant to this industry, in which women are under-represented at all entry levels: socially, legally and physically. This particular section of society is never given a chance to prove their enthusiasm and talent just because 'women were not permitted entry to underground mines', although they are constantly multitasking, juggling careers, children and households and out-performing colleagues in many other sectors.
Women regard this male-identity culture as a challenge requiring the welcoming and enforcement of change; to make it seem possible to break this glass ceiling. Some progress has been made in the last few years, where in their struggle to become entrepreneurs of the earth they have proven their competence in the management, control, direction and supervision of mines. Now, despite the challenges, they are making inroads into the male-dominated mining sector.
The Mines Act of 1952 states that women are not allowed to work in any underground mines and can only work in opencut mines between 6 am and 7 pm. Also, under the Coal Mines Regulations, 1957, restrictions are imposed on women seeking admission to mining engineering courses in colleges in India. This also occurs in other countries. The initiative came when, in 2019, the government scrapped Section 46 of the Mines Act, 1952, which referred to the restricted employment of women in mining. In May 2016, the Indian School of Mines, Dhanbad, declared that it would begin admitting female candidates to its mining engineering programmes from the 2016-2017 academic year onwards. Several IITs and other prestigious universities in the country also welcomed this move and opened the doors of their mining engineering courses to female students.
However, there is one woman who did not wait for the system to change. Instead, she fought tooth and nail to become the first female mining engineer in India well before the rules and regulations on the subject changed. Mrs Chandrani Prasad Verma is the first female mining engineer in India and completed her Mining Engineering degree in 1999. Her determination to continue and succeed didn't waver for a second and her spirit remained indomitable. Tata Steel was the first organization in India to employee women in all shifts in their mines from 1 September 2019. A total of 52 female employees were posted at its coke plant and the electrical repair shopfloor in A and B shifts between 6 am and 10 pm. Mrs Pratixa Kher is a pioneer in the brown and dusty Noamundi Hills of Jharkhand, which supply the iron ore that is smelted in Tata Steel's blast furnaces.
She is among those shattering a gender barrier associated with women managers directing mining operations. Kher is among engineers hired by Tata Steel who are doing jobs traditionally considered too hazardous and too physically taxing for women. Mrs J Liril and Mrs Karishma Kandoi are among the few who work at Noamundi Iron Mines, Tata Steel. They are managing their work life and personal life better, as their roles have given them a platform to showcase their talents and also enhance personal growth. As an engineer in charge of a shift, they have to monitor plant status data while ensuring that the equipment is also in good condition for the night shifts.
The direct participation of women in mining varies throughout the world. In Kenya, women have been working as miners for generations as a result of their greater honesty. However, women only comprise 15% of the global mining workforce. Mining is the worst sector for gender equality, with just less than 5% of the board seats held by women executives in the top 500 mining companies. Only 31% of the top 500 listed mining companies and around 45% of the top 100 listed mining companies have a minimum of one woman on their apparently gender balanced boards. According to PwC (Price Waterhouse Cooper), South Africa mining companies rank no. 1 in the world in relation to female representation in general and at board level. Currently in South Africa, women make up 24% of the boards of the top 100 listed mining companies and 22% of the boards of the top 500 mining companies. Together these mining companies have a market capitalization of USD 200 billion. The lowest participation of women on boards is in Canada (5.9%), closely followed by Hong Kong and the UK (6%).
There is a direct correlation between gender equality and GDP. The promotion of gender equality and women's empowerment can lead to national progress in inclusivity, as outlined by the United Nations Development Programme, which combats discriminatory practices and challenges the roles and stereotypes that affect inequality and exclusion. Establishing gender equality in high-level corporate leadership is still a challenge.
I hope this letter will enhance your knowledge on this topic and you will find it helpful for writing your reply, looking forward to hearing from you.
Thanking You
Megha
18-MARCH-2021, Ranchi
Chère Megha,
Dans plusieurs pays du monde, les femmes ont de grandes difficultés à travailler dans le secteur minier du fait de l'existence de normes culturelles, de tabous sociaux, d'une législation discriminatoire, de l'accès limité au crédit, d'un manque d'éducation et de problèmes de connaissances techniques.
En RDC par exemple, les discriminations sexistes dont les femmes sont victimes, peuvent premièrement être remarquées à travers l'écart énorme de revenu entre les hommes et les femmes dans le secteur minier, deuxièmement par les positions hiérarchiques qu'occupent les femmes dans ce secteur. Ces dernières se trouvent souvent au bas de la hiérarchie, menant à bien les travaux subalternes. En troisième lieu, les femmes subissent de nombreux cas de violence sexuelle dans et autour des mines. Elles ont également des chances minimes d'accéder à des services financiers, car les hommes ont souvent des capitaux tels que la terre et le bétail comme garantie, ou ils mettent des ressources en commun avec des amis pour se prémunir des risques du secteur minier.
Ces problèmes suscitent le besoin de réfléchir sur les mesures pouvant arrêter cette discrimination. Plus précisément, il doit être demandé à ceux qui sont des preneurs de décisions, les stratégies les plus appropriées pour améliorer la situation des femmes. La stratégie suivie en RDC a été celle d'encourager les femmes à abandonner le secteur minier et à s'orienter vers des activités économiques alternatives. Le raisonnement de cette approche est que, puisque le secteur minier offre seulement des revenus à court terme et ne semble pas contribuer à l'habilitation économique à long terme, les femmes devraient être aidées dans le cadre de stratégies de sortie.
La question sur laquelle je propose de réfléchir consiste à savoir s'il est judicieux que les femmes abandonnent le secteur minier ou non. Et sinon qu'est-ce qui doit être fait pour qu'elles se sentent intégrées dans le secteur extractif.
Tout d'abord, malgré sa popularité, la stratégie présentée ci-dessus a reçu un nombre considérable de critiques dans le monde académique. L'approche a premièrement été critiquée comme étant peu réaliste et impraticable, parce que non adaptée aux réalités politiques et économiques locales. Cette approche sous-estime également la volongé des femmes de devenir et rester active dans le secteur minier. On critique également cette stratégie comme étant naïve parce qu'elle table sur un arrêt de la participation des personnes dans les mines et dans les activités connexes. Elle défavorise les individus, en ce sens que, dans beaucoup de pays touchés par la crise économique, l'instabilité ou le conflit politique, il n'existe pas de meilleure décision en terme de choix d'activité économique à effectuer. Les gens opèrent souvent des choix stratégiques pour survivre et dans une région minière, ceux-ci considèrent l'activité extractive comme étant leur meilleure option qui leur permet d'obtenir un revenu. Cette activité leur permet également de diversifier leurs activités, parce qu'elle leur permet de compléter ou de remplacer leurs revenus agricoles et leur donne l'occasion d'accumuler un capital en vue d'affaires commerciales.
Un autre point de critique vis-à-vis de l'approche des activités alternatives vient du fait que cette approche ne tient pas compte des barrières à la sortie du secteur minier. Les mineurs trouvent souvent qu'il est difficile d'abandonner les mines parce qu'ils veulent récupérer l'argent qu'ils ont déjà investi dans leurs travaux ou parce qu'ils sont emprisonnés dans ce qu'on appelle un « cycle de la pauvreté », c'est-à-dire une situation fâcheuse produite soit par l'utilisation de la technologie inadéquate, des faibles gains, des capacités limitées d'investissement, et des difficultés d'accès aux prêts ou au crédit.
De la même façon, dans le contexte de la RDC, il n'existe quasiment pas de secteur alternatif vers lequel les femmes qui quittent la mine peuvent s'orienter. L'agriculture qui serait l'activité de substitution à l'activité minière ne peut être pratiquée à cause du niveau élevé d'insécurité à plusieurs endroits dans le pays.
Dans ce cas, il est plus raisonnable de prendre en considération la situation difficile des femmes et de les aider à renforcer toutes seules leur position dans le secteur extractif. Il est alors grand temps d'aller au-delà des représentations stéréotypées des femmes dans le secteur extractif, en tant que groupe homogène de personnes qui sont toutes des « victimes du secteur minier et de son marché résultant du commerce du sexe », ou comme étant des femmes divisées en deux catégories, à savoir, les ouvrières du sexe et les ouvrières de la communauté ; ignorantes et passives, etc.
Il serait également préférable que les femmes intellectuelles commencent à intégrer le secteur minier car cela permettrait d'y développer une image bien plus réaliste de la diversité et de l'opportunisme.
Enfin, pour aider les femmes à avoir confiance en elles-mêmes en demeurant dans le secteur minier à l'abri de la discrimination et des violences, il est important de comprendre ce qui les motive à œuvrer dans le secteur minier et de poser un regard aiguisé sur les significations qu'elles accordent à leur travail, à leurs besoin, à leurs intérêts, à la perception de leurs propres conditions de travail et de vie, à leurs idées au sujet de l'économie politique de l'industrie minière, à leurs avis au sujet d'autres sources de revenu possibles, à leurs vues sur le genre, etc.
Cordialement,
Michael
23-MARS-2021, Bukavu

Dear Michael,
If women can fly into space then why can't they dig into the earth!! If women can be pilots and astronauts, then why not miners. They are tremendous sources of potential capabilities on a par with men. India, the largest democracy in the world, amended the Mines Act of 1952 to allow the participation of women in the mining sector.
Gender discrimination against women in the mining industry at this time appears even more pathetic and adverse. At the present time, many non-mining industries are striving hard to provide employment for women in order to maintain and develop diversity.
Queen Elizabeth II, Queen of England, Indira Nooyi, former PepsiCo CEO, Kamala Harris, the first female vice-president and the highest ranking female official in the history of the United States and many more marvelous women have proven their metal. Women in mining industries are not the only one's facing discrimination against them, as women are also struggling hard to shine in other fields such as health, education, economic empowerment and assets ownership, power and decision-making, etc.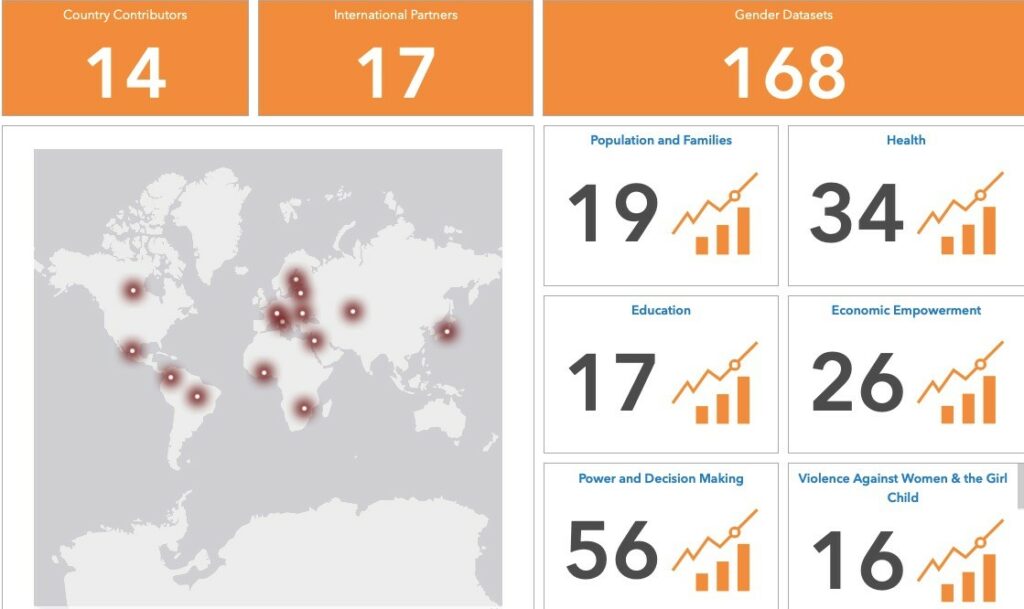 Department of Economic and Social Affairs statistics (United Nations)
According to a new UN report launched in October 2020, no crack in the glass ceiling has been observed in relation to the share of power and decision-making, with women holding only 28% of managerial positions globally in 2019 – almost the same proportion as in 1995. Only 18% of the enterprises surveyed had a female CEO in 2020. Among Fortune 500 corporations, only 7.4% or 37 CEOs were women. In political life, women's representation in parliament has doubled globally but still hadn't reached 25% of parliamentary seats in 2020. Women continue to be under-represented in the field of STEM, representing slightly more than 35%. Twenty-five years after the adoption of the Beijing Declaration and Platform for Action, progress towards equal power and equal rights for women remains elusive.
The gender wage gap in Canada narrowed to 26.8% between 1998 and 2018 due to the effect of the employability of women and men in non-traditional industries, mining being one of the significant sectors as per the reports of the UN.
This glass-ceiling can only be broken by adopting reforms like those made by India to its laws, and through awareness, cultural change and societal education. Women are persevering in this phase of adversity and are engaging in proactive advocacy. They are trailblazers who are like shining lights that produce positive and impactful changes.
Women are the future for sustainable mining and can make up a large workforce for the future, creating new societal value, as well as harnessing digital technologies and innovation. Gender equality is the key to achieving sustainable development globally by 2030. No country has yet achieved gender equality.
I hope this letter will enhance your knowledge of this topic and you will find it helpful for writing your reply, looking forward to hearing from you.
Thanking You
Megha
29-MARCH-2021, Ranchi

Chère Megha,
Il est vrai que sous certains cieux, l'insertion de la femme dans le secteur minier a déjà été quasiment effective, comme vous l'aviez souligné dans vos deux dernières correspondances concernant l'Inde, le Kenya, etc. Bien que la situation apparaisse comme telle dans ces pays qui peuvent d'ailleurs être considérés comme des modèles de la résolution des problèmes de genre dans le secteur minier,  le défi reste encore grand dans plusieurs pays africains comme l'Ouganda (lire l'article de Sara Geenen  (2017) intitulé « Women in (and out of) artisanal mining: a call for revising Uganda's draft Mining and Minerals Policy »), la RDC (lire l'article de Bashwira, 2013 intitulé  « Not only a man's world: Women's involvement in artisanal mining in eastern DRC »), etc. Premièrement, la problématique liée à la marginalisation de la femme dans la mine a été ignorée pendant très longtemps par les preneurs de décisions, les scientifiques et les autres parties prenantes en RDC. Ce n'est que très récemment que les chercheurs ont tourné leur attention sur des questions liées à l'implication de la femme sur la chaine de valeur des minerais, dans des coopératives minières, à l'écart des revenus entre les hommes et les femmes dans les activités minières, aux violences faites à la femme dans ce secteur, etc. et les résultats de la plupart de leurs travaux montrent, jusqu'à l'heure actuelle, des situations défavorables de la femme. Du côté de la législation dans ce secteur, même le code minier le plus récent de la RDC (code minier de 2018) n'en tient pas compte rigoureusement. 
L'on comprend à partir de ces idées que si, en Inde ou ailleurs, certains efforts ont déjà été fournis, en RDC, il y a encore de quoi réfléchir afin d'établir des modèles de résolution plus adaptés. Mon point de vue sur le problème de notre discussion est en accord avec Bashwira (2013), Geenen, (2017), etc. Au-delà des politiques qui doivent être entreprises dans le secteur extractif au bénéfice de la femme, un travail et un traitement juste, il est également et surtout question de l'émancipation de la femme dont l'esprit échappe encore à plusieurs domaines y compris le domaine extractif. C'est pourquoi, dans ma correspondance précédente, j'ai mis un accent particulier sur la prise de conscience de la femme concernant ses capacités à travailler dans la mine au même titre que l'homme. Ceci est capital parce que son intégration dépend avant tout de l'image qu'elle a d'elle-même. L'acception de la femme congolaise est qu'elle n'est pas valide pour une gamme de travaux miniers. Ceci proviendrait tout premièrement de sa culture qui lui confère la responsabilité des travaux ménagers et des travaux moins lourds. Tant qu'elle ne s'est pas encore détachée par elle-même de cette considération, il est difficile que les choses aillent autrement. Je suis fermement convaincu que, si cette idée est mise en application, nous aurons également des femmes dont nous pourrons vanter les réalisations, comme vous l'aviez fait pour Pratixa Kher, Chandrani Prasad Verma, etc.
Cordialement,
Michael
5-MAI-2021, Bukavu